Data Driven Decision Agriculture
Weather INnovations (WIN) started in 2000 at the University of Guelph, Ridgetown Campus as Ontario Weather Network or OWN. OWN was quickly renamed to Weather INnovations as it grew into a global company as WIN currently operates weather and environmental sensory equipment at over 1500+ locations throughout Canada, the U.S. and Europe.
WIN specializes in providing turnkey weather-based monitoring and modeling solutions for agribusinesses, producer organizations, government agencies, and researchers. WIN makes models and data easy to use by incorporating innovative research with site-specific applications and then delivering outputs through interactive web interfaces.
Read More
DecisionFarm
DecisionFarm delivers the latest in weather-based online agronomic advisories for many field and specialty crops. Growers can log-on to DecisionFarm.ca by creating a free profile. You can then identify and save field locations to view weather forecasts, agronomic models and interactive CHU and GDD reports for your exact locations. From planting to harvest, DecisionFarm has the weather and agronomic information you need to make more informed on-farm decisions throughout the season. Sign up for free and access your current field-level weather information on DecisionFarm.ca.
Models available on DecisionFarm
SPRAYcast - identifies times during the day that are more or less favourable for spraying based on weather conditions
BINcast - a weather-based advisory for improving grain conditioning in aeration grain storage systems
DONcast - helps predict deoxynivalenol toxin (DON) accumulation levels for better efficiency in spray decisions
WHEATcast - scouting advisory in wheat fields for the presence and severity of septoria tritici leaf spot and powdery mildew foliar diseases
TOMcast - disease-warning model for a timed fungicide spraying program for Early Blight, Septoria Leaf Spot and Anthracnose on processing tomatoes
Growth Stages - Identifies which growth stage each of your crops are in to make more timely scout and spraying decisions
Crop Water Stress - tool for monitoring potential water stress and for irrigation scheduling for your crops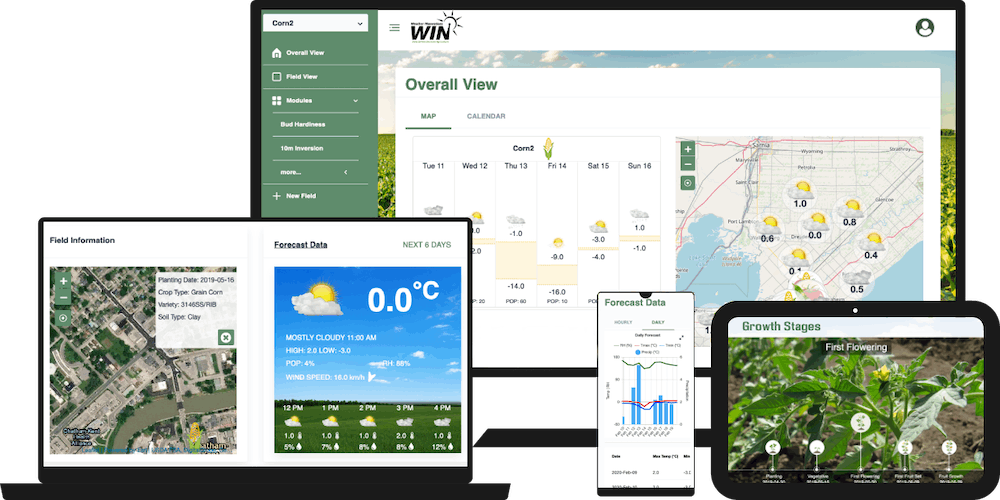 Read more about decision support models here
VISIT NOW
Equipments & Technologies
Weather INnovations employs and distributes various brands and types of high-quality monitoring equipment in each of our monitoring networks to match the needs and requirements of the project to the most appropriate technology, equipment or sensors.
WIN's technology solutions include automated telemetry equipment, individual sensors for existing networks as well as full service installations and programs.
Read More
Projects
Weather INnovations has been fortunate to work on various projects over the years that include but are not limited to crop insurance programs, disease monitoring, research and crop monitoring. Some of these key ongoing projects listed below demonstrate WIN's capabilities of managing large weather networks and delivering accurate and timely site-specific data to our clients.
Mailing Address:
PO Box 23005
Chatham, ON, N7L 0B1
Office Address:
7159 Queens Line RR 9
Chatham, ON, N7M 5T1
Send Email
Send an email to info@weatherinnovations.com and we will get back to you as soon as possible.
By sending an e-mail address, you confirm that you are providing consent to Weather INnovations Consulting LP, on its own behalf and on behalf of its affiliates http://weatherinnovations.com/affiliates, to receive emails containing news, updates and promotions, including third party promotions, as well as product and/or service information, including that of third parties, that may be of interest to you, and that you understand you may unsubscribe at any time. Please see http://www.weatherinnovations.com/contact for more information.